It's been two weeks. As most of us scurried through the second week of spooky season, none of us knew the woman who played witch extraordinaire Angelique Bouchard, the antagonist of TV's Dark Shadows, passed away in her sleep after a long illness on 12 October 2023.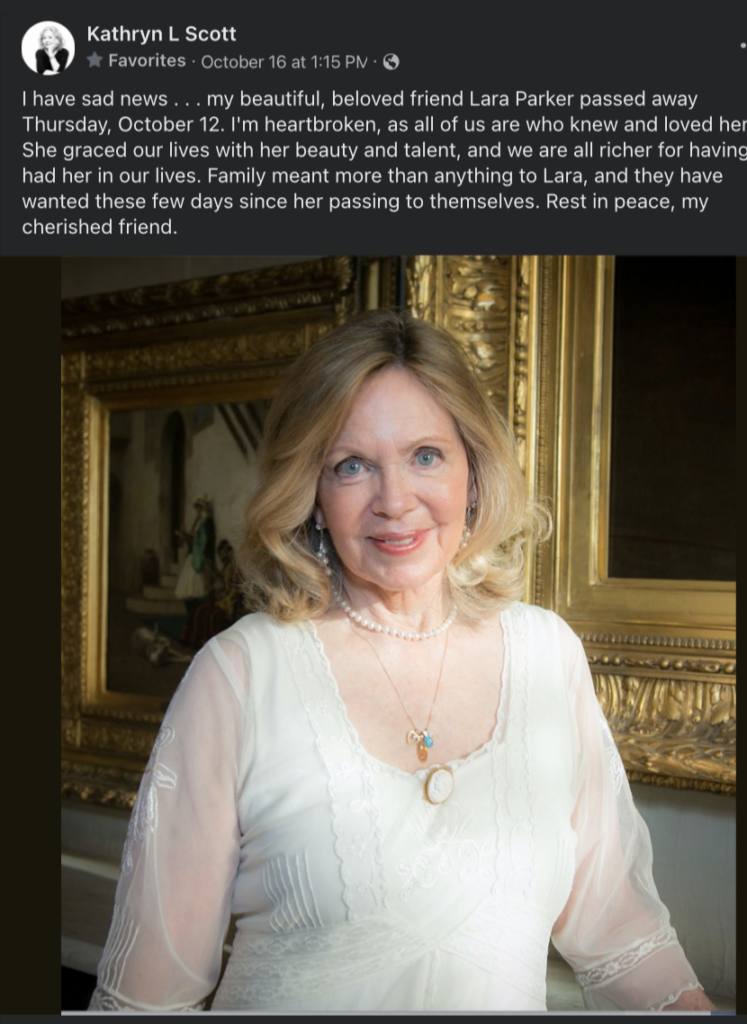 Though I considered myself a fan of the show, I was never active in Dark Shadows fandom. Conventions and festivals were too far away. No friends shared my interest. I didn't feel like traveling alone. And so, over the years, I contented myself reading the continuing exploits of cast members and fan gatherings through fanzines, particularly The World of Dark Shadows, never meeting any actors from the series out in the wild.
That changed during my time as a vendor at Sci-Fi and Comic Books conventions in the early 21st century. In 2014, I had the pleasure of meeting Lara Parker and Kathryn Leigh Scott at ConCarolinas in Charlotte, NC. Their booth was across the aisle from mine, so I was in their presence for the entire weekend.
Both ladies were just as warm and friendly as everyone described. Their affection for their fans was genuine. I was very impressed by Ms. Parker's professionalism in a stressful situation. Due to a hindrance by TSA in Atlanta, the delay caused her to miss her flight from Hartsfield to Charlotte. Undaunted, she drove to Charlotte from Atlanta in a rental car, arriving in record time, although it meant facing peak rush hour traffic in the Queen City. After greeting friends and former costar KLS, she vocally decompressed about the ordeal. That drive requires a herculean effort, though. I wouldn't have attempted it on a Friday afternoon in my 20s. Exhausted and frazzled, she pulled herself together, ready to face her first appearance and signing. Curtain! The show must go on!
Though only a few feet away, we didn't converse much. There was no time. This convention was so packed there were only a few momentary lulls between a steady stream of customers in the dealer room. Since I was a vendor, I couldn't attend fan events like panels and such. As both ladies were directly viewing me whenever they looked up, they were probably tired of seeing my face, anyway.
On Saturday afternoon, both ladies found time to come by, examine the wares at my table, and chat a bit. I was delighted to have their company. I sold handmade steampunk jewelry, collectibles, and a few oddities. That year, I ventured into making steampunk-themed magic props. Ms. Parker was particularly interested in a magic prop called "The Haunted Box." It contained a pendulum and a self-working trick called "the haunted key." She expressed interest, and I performed the trick. Seemingly of its own accord, the key came to life and slowly turned in my hand at my command. It actually surprised her. And while looking a bit closer at the key, she did something remarkable – she did a bit of the "Angelique" laugh and then departed for the next Dark Shadows panel. My inner 10-year-old was utterly thrilled!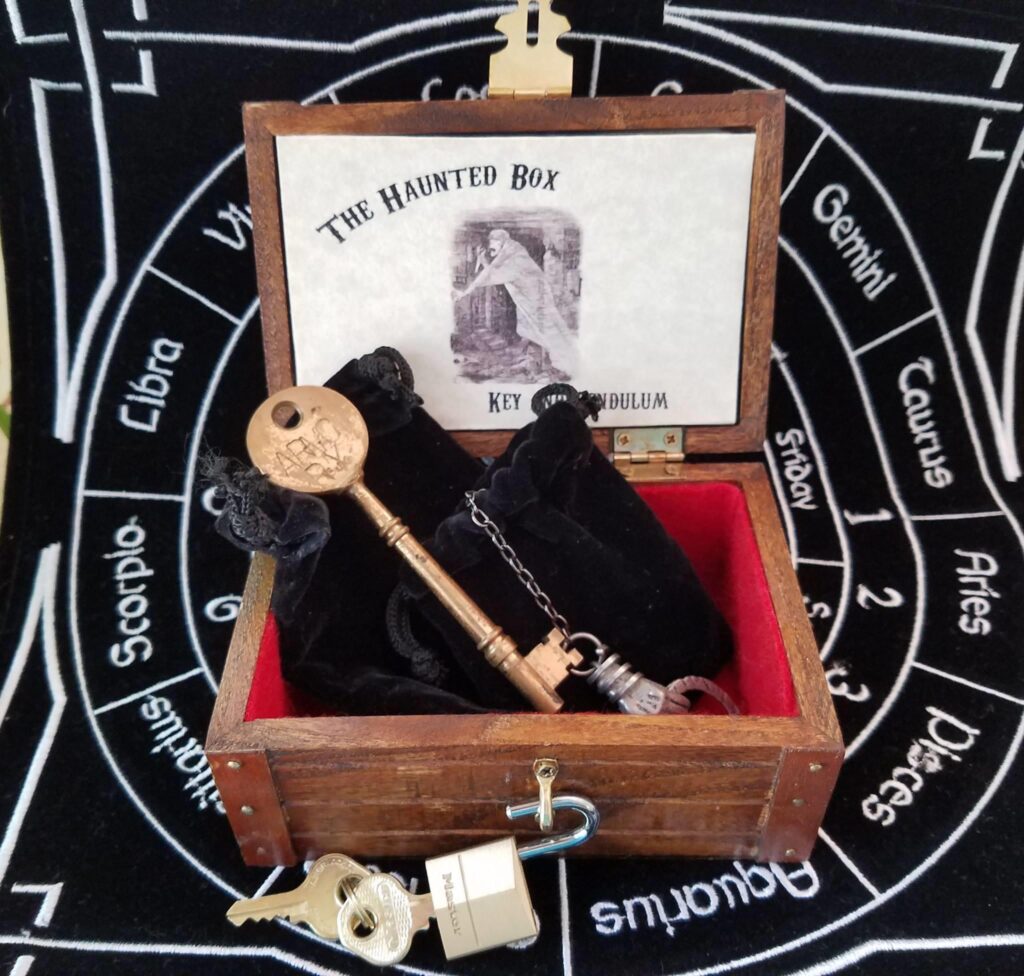 And that's my tale. All that happened nine years ago. I'm happy to have met the Dark Shadows ladies, if only once. I do hope fans will remember the real person behind the stage name: Lamar Rickey Hawkins. Dark Shadows made her famous, but that was only three years out of a lifetime of accomplishments. Those milestones were impressive in their own right.
Born Lamar Rickey in Knoxville, TN, she won an academic scholarship at age 16 to Vassar. After finishing her undergraduate degree at Rhodes College, she obtained her MFA in speech and drama at the University of Iowa. Retiring from acting in the mid-1980s, she returned to college, this time to teach. After getting her teaching certificate, she taught English in the Los Angeles Public School system. She later obtained her second postgraduate degree in creative writing, took a position as an adjunct professor, and published three books. Out of all these achievements, she was proud of her family the most. Lamar was a mother of three, a grandmother, and a wonderful friend to many people. 
She was very kind to her fans. They were important to her. Looking at some of the tributes on various Dark Shadows groups, she remembered her admirers. After a half-century of conventions and festivals, she remembered those who turned out to see her year after year. She was on a first-name basis with an astonishing number of people. I've seen Christmas cards and photos of her minding attendees' children. At ConCarolinas, I saw her greet other vendors she had met at earlier shows. Celebrity guests seldom do such things. Her affection came from the heart. Understandably, many in DS fandom are genuinely heartbroken at her passing.
Lamar Rickey Hawkins leaves behind her husband, three adult children, one grandchild, and her dog Pearl. As her family, former costars, and many close friends are grieving her passing, my sincerest condolences go out to them all at this sad time.
The Hollywood Reporter has a beautiful obituary. Please read Patrick McCray's tribute post at the Collinsport Historical Society. Close friend Valerie Pronio Storm started a group for fan memorials on Facebook called "Letters to Lara." There, fans share some beautiful remembrances.
Farewell, wonderful lady!