I can't claim to have been a roaring success in my life. Unless my lottery numbers match tonight, I never will achieve fame and fortune. It hasn't been a complete yawn, though. Every now and then, I'll wander into a situation that becomes a minor adventure and adds a splash of color in between the doldrums. It's Halloween, so in the spirit of the season, let me tell you about the time I investigated a haunted house.
The state capital of North Carolina, Raleigh, is a bit peculiar. There was no defining event or prior city as with other state capitals. As the General Assembly had to travel long distances from opposite ends of the state to meet, the Honorables needed a solution. As an influential person with a great sense of civic duty, planter Joel Lane donated a parcel of land for a capital. In democratic fairness, it was located precisely in the middle of the state. And so, a city was constructed solely to house the state government. The new capital was christened Raleigh, after Sir Walter Raleigh, the sponsor of the ill-fated "Lost Colony.". It also helped there was a bawdry public house, Isaac Hunter's Tavern, near the donated acreage. Now the Honorables did not have to travel so far. They could conduct state business, debate, pass laws, get drunk on pop-skull whiskey, descend into fisticuffs, and roll around on the floor in a more convenient location – yet still far away from home, wives, and wagging tongues. Such things constitute the American dream.

Equally peculiar, there are few ghost stories and legends associated with the Raleigh. Some old houses remain, but with no legendary spooks. The only long-standing tales involve the old State Capitol. Built in 1833, it's full of odd noises, creaks, and groans, like all old buildings. There are whispered tales of footsteps at night in the old House of Commons chamber. In the wee hours of the morning, some hear a woman's scream and gunfire near the "dueling oaks" on the Capitol grounds. But these tales are a dime a dozen at any old structure anywhere across the US. Plus, this being America, you can hear screams and gunfire downtown in any medium sized city on any night.
Suddenly in 1988, reports of strange happening in Raleigh's historic Mordecai House appeared in the news. Strange goings-on abruptly started after centuries of blandness for some unknown reason. Items were moved and put in places they were not supposed to be. The piano played faint phantom tunes. Noises were heard. The most specular of all, a lady in 19th-century dress, was seen on the staircase. The rumors of ghostly doings reached the press and finally the ears of prolific writer and North Carolina folklorist Nancy Roberts. She immediately interviewed the home's manager at The City of Raleigh's Historic Property Division. This tale appeared in Robert's 1988 book Haunted Houses: Chilling Tales From 24 American Homes. Such accounts certainly spiced up tours of the previously uneventful city.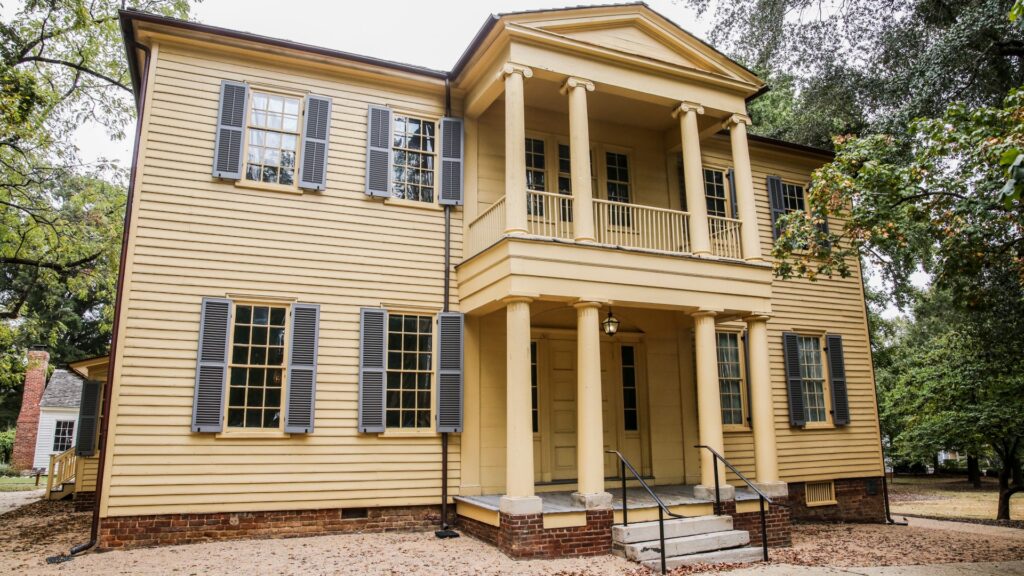 Mordecai House is indeed old enough to be a perfect haunted house. Built in 1785 by the "Father of Raleigh," Joel Lane, for his son Henry, the oldest portion of the home is still on the original foundation. Henry's daughter, Margaret Lane, inherited the house upon her father's death. She married Moses Mordecai, a wealthy lawyer from a very prominent Jewish family in Warrenton. Moses was wealthy and an ambitious lawyer. He turned the vast acreage of Lane property into a profitable cotton and corn plantation. Employing State Architect William Nichols, remodeled the original house as a Greek Revival structure. The once modest house was transformed into a manor named for Moses himself – Mordecai House. It remained in the family until 1967, when his descendants sold it to the City of Raleigh as a museum. The remains of the once vast plantation is now Mordecai Historic Park on 1 Mimosa Street. Along with the manor house, the park also contains the birthplace of President Andrew Johnson, St Mark's Episcopal Chapel, and the Badger-Iredell Law Office. The addition of these other historic buildings gives the park a village look.

The "Haunting" and the Haunted North Carolina Paranormal Group

Over the years, tales of the haunting spread, bringing in more and more curious visitors. By the year 2005, Mordecai now had a laundry list of alleged paranormal events.
Phantom candle lights flickered in windows, particularly the windows of the Andrew Johnson building
The grand piano played short, faint tunes all by itself
Phantom music wafted in from an unknown source
Visitors heard crystal tinkling and saw the chandelier move, though no windows were open
Faint voices and snatches of conversation drift in and out, though no one is around
And the Holy Grail – a full body apparition of Mary Willis Mordecai Turk, once flounced down the staircase
Enter two enterprising young men from the Triangle area, Jim Hall and Dave Gurney of Haunted North Carolina. The aughts were the heyday of paranormal ghost clubs full of self-styled "investigators." The two men formed their first club, named Seven Paranormal. After a few investigations, membership grew, and the club was renamed Haunted North Carolina. They traversed the state armed with digital cameras, EMF meters, and other whiz-bang gadgets, set on capturing real evidence of the paranormal. The pair was soon getting a lot of press coverage and making the local 6 o'clock news with their stories, just in time for Halloween.

As Haunted N. C. was getting lots of press, tourists were pouring into the park hoping to see some spooks. By 2004, the house was a major draw for the Haunted Raleigh Trolley Tour. The tour ended with the pair giving a paranormal lecture at Mordecai Park on Halloween night, to a sold-out crowd. The popularity of the haunted attraction caught the attention of the SyFy channel. In swooped those buff little hamburgers and purveyors of derp, Jason Hawes and Grant Williams of the Ghost Hunters TV show. Hall and Gurney joined the T.A.P.S. crew to shoot a segment on Mordecai House. It was first broadcast on August 17, 2005, Season 2, Episode 4, along with a segment featuring the USS North Carolina. Sadly, the Raleigh segment was uneventful. Nothing jumped out and said, "boo!". The only oddity was the cast seemed plagued by some mysterious gastric miasma during the investigation.

This is where I come in. I watched the show and planned a photoshoot on the grounds. I wasn't looking for ghosts; I hoped to get some arty, high-speed infrared pictures before hurricane season and Fall arrived. Doing a little research on the park, I happened upon the Haunted NC chat board and caught a running commentary by Dave & Jim on the Ghost Hunters episode.
Taped in the Winter of 2005, T.A.P.S. blew into town one Saturday determined to find some ghostly action. Sadly, the Mordecai segment came to naught. The cast and crew were indeed ill during the taping. It wasn't a mysterious curse, though. These hot-shot paranormal investigators drove down from Rhode Island, parked it at a North Raleigh Holiday Inn, promptly ordered hot wings from Dominos, and got food poisoning. Their investigation was derailed by 24 hours of the backdoor trots with occasional whoopsing. (Note to tourists: why eat nasty fast food like hot wings when you can go to a nice place like the Angus Barn or The Peddler and have a great chef prepared meal? Have some class, fercryinoutloud!)
I left the Haunted NC board to their merry capers, loaded my cameras in the darkroom with infrared film, and drove to Raleigh. I spoke to the manager on duty about doing some photography. He permitted me to shoot on the grounds, but I could not sell any of the pictures. Photographs, no matter how astounding, could only be used for my portfolio. That was a little strange, but I let it pass. Being NC natives, we started talking, and he gave me some tantalizing bits of back story on the supposed haunting. I will enlighten you shortly in my BIG REVEAL to keep you scrolling through this story.
My Great Investigation
My results: I got some nice infrared photos. No h'ain'ts showed up. The only thing extraordinary was I found this location extremely noisy for a park. Infrared photos must be done on a tripod. Several shots were spoiled simply by the rumble of passing traffic. Mimosa Street is off Wake Forest Road, a major artery into downtown Raleigh. There was a constant stream of traffic and rumbling trucks passing by. Across from Mordecai House on Mimosa St. is Bryant-Lee Funeral Home. That was busy as well. Several yards down Mimosa, at Mordecai Drive, is Mordecai Spring City Park. Several cars of young people flew past me on their way to the park. All were whooping it up and blasting music as loud as they could. One dude's subwoofer was shaking my tripod so bad, I had to hold the thing. I wondered how the windows in the house stayed in one piece.
I came back for an indoor tour a few weeks later when the weather cooled. It was in October and very pleasant. Halloween decorations were up, so that gave the place a nice spooky vibe. I saw no ghosts. There was one photo of one lonely orb, framed for viewing in the gift shop along with Nancy Robert's folklore books. Tickets for the Haunted Halloween Tour were on sale, but I wasn't interested. The regular daily tour was marvelous. The place is very well preserved, with many of the original family furnishing restored to the manor house. The noise and rumbling of traffic were still there, too. I could see crystals in the chandelier move simply from passing trucks. The house has a magnificent grand piano. I have no idea the condition of its inner workings, but I'm sure the light music from the piano was caused by passing vehicles on Wake Forest Road. There were times I could feel the floor shake when heavy trucks went by.

I also solved the mystery of odd lights photographed in the windows just by being observant. As the house is a museum, it must be climate controlled to prevent those lovely artifacts from deteriorating. Over each window is a transparent shade made of mylar. These archival museum shades are made to block UV from sunlight. Sunlight can fade and age priceless artifacts from the past. What the ghost hunters are photographing are reflections from window glass and the transparent shade behind it.

And what of the apparition on the stairs? Ok- this was the tale I was told – A new, rather nervous custodian had been hired back in the late 1980s. One of the tour guides was staying a little later than usual to finish up some work. The custodian simply saw the guide dressed in period clothing as she was coming downstairs. The new employee screamed she saw a ghost and fled the building in a flurry of dropped mops and feather dusters. I have no idea what happened to the frightened custodian, but the "ghost" sighting became an in-joke to the staff. Pranks were pulled on new employees and blamed on the ghost. Eventually, other people heard the stories and thought the haunting was real. As Raleigh's tourism and the population were picking up at the time, a tale of the ghost was spun to bring in new customers. By 1988, Nancy Roberts gave it coverage and Mordecai became a "must see" attraction on the Raleigh tours. Nothing brings in tourist dollars like a haunting. Those who knew it all started as a joke kept mum.
Let me touch on the other "evidence" paranormal investigators presented. None of it is usable. The "orb" photo is simply an inherent flaw in point-and-shoot digital cameras. Even though greatly improved over the years, the very well-made iPhone camera still has a green "orb" of lens flare any time a light source is near.
As for EMF Meters, IR thermometers, etc. they detect nothing paranormal. EMF meters simply measure the electromagnetic fields of common household or industrial appliances. It's only calibrated for 50 or 60 Hz to correspond with A/C or D/C current. IR thermometers only work for surface temperature. It can't detect the ambient temperature of a passing spirit. These are good and useful devices used to measure things they are not made to measure. Of course, this will produce an "anomaly." This has become a buzzword for paranormalists, and to them, synonymous with "evidence." Sadly, it's not. All these investigators are doing is simply using these gadgets to give their investigations a false scientific veneer.
It's like this – a rectal thermometer is a good and useful tool when used for its intended purpose. However, if you use a rectal thermometer for baking a cake, you will certainly get "anomalous" results. Not only will the cake be a big mess, but no one will ever eat anything made in your kitchen again. Using any tool for another purpose will almost always produce an anomalous reading. That doesn't mean it's proof of a spirit. It's proof you are stupid and have no idea what you are doing. I've made this analogy before to countless wannabe ghost hunters, but they still don't get it. Bless their hearts.
Conclusion
Haunted North Carolina, though they tried, never delivered any conclusive evidence of a haunting. After their 15 minutes of fame, the group went belly up shortly after my last visit to Mordecai. An online fight broke out between Jim Hall and an ex-member. It became so heated the chat board suddenly vanished. The conflict spilled over into real life as well – there was a major falling out between Jim and Dave. The website shut down, and the group collapsed like a Halloween jack-o-lantern on November 11.
Being nosy, I checked to see what these young men were doing after sixteen years. Jim Hall is middle school science teacher in a neighboring county. He's still conducting paranormal investigations and still using EMF meters to bust hauntings. Dave Gurney has apparently moved out of the area. As he lived close to my house, I usually saw him tooling around in his convertible with the "NCGHOST" vanity tag. I've not seen him in about six years. He has no internet presence at all now.
Haunted North Carolina is now under the ownership of psychic researchers affiliated with the Rhine Center in Durham, NC. The group is officially called Haunted North Carolina Paranormal Research and Investigations, Inc. The website shows a couple of pictures of shadows as evidence of ghosts. There's a contact form and not much else.
Mordecai has their own in-house paranormal investigators, called the Ghost Guild, who thrill people every Halloween with ghostly tales and their annual investigation. The Mordecai House is a wonderful museum, a slice of the mid 19thcentury, and an excellent educational tool. When in Raleigh, do stop by. I can't guarantee you will see a ghost, but it's an interesting tour.

And if you have money to blow, you too can be a paranormal investigator! Just visit the Rhine Center website and take the online classes. Wooooo! Happy Halloween!