There are those few times that social media serves a purpose other than pointless arguments. Midcentury Fashion is one of those rare groups where fights do not break out on a regular basis. Most of us are ladies of a certain age and older. The page owner delights us with long-forgotten adverts and photographs of products and fashions we saw when we were younger, taking us on pleasant trips down memory lane. Now and then, a few youngsters crash the place, trying to ruin our fun by trumpeting the superiority of today's fashions. They scamper off when reminded that Walmart chic is trashy, and they are only one spandex thread away from a wardrobe malfunction, unleashing the results of too many McDo's burgers before all and sundry.
Last Sunday, I noticed a delightful ad from the 1950s for Coty's fragrance "Emeraude." I remember that one well. Less remembered was another fragrance a poster mentioned – "Emeraude replaced Styx as the flagship scent by Coty. By the 50s, Styx became too expensive to make and was dropped."
Styx. Where did I hear that before? Styx…ah-ha! Styx was my first "adult" perfume when I was a sophomore in high school! I got my first bottle of Styx for Christmas of 1972, along with a new Ouija board, Helen Reddy's I Am Woman LP, and Clairol's new-fangled compact blow drier called an "Air Brush." Not only did I smell good, I told fortunes and dried and styled my liberated gypsy shag haircut without the misery of hair rollers. I was beyond hip. And Styx came with an added bonus that set it apart from anything else at the time –a magic spell.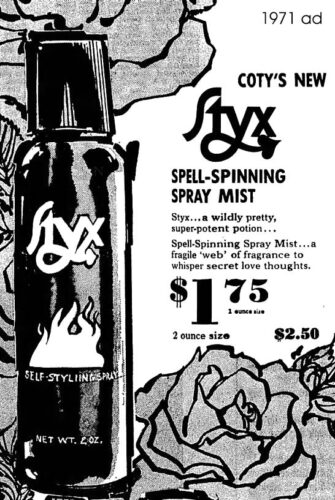 All things mysterious and mystical were in vogue in the late 60s and early 70s. Astrology, eastern religions, ESP, Dark Shadows, Zenner and tarot cards were popular. Bookstores were awash in occult-themed paperback books. Lunch and homeroom could find us all pursuing the secrets of the universe in Zolar's Book of Spells and Forbidden Knowledge, in between book reports on Great Expectations. Enter that fragrance known as Styx, wrapped in mystery and incantations. In the spirit of the counterculture's occult explosion and burgeoning empowerment of Women's Liberation, each Styx product came with a magic spell as a selling point. The product copy assured us if our good grooming and intelligence did not snag a desirable escort to the Friday night ballgame and pizza, we could simply unleash the feminine occult energy of the entire universe on the guy. He didn't stand a chance.
Styx was indeed once Coty's flagship fragrance. Initially launched in 1911, Styx, named after the river in Greek mythology, was marketed as a sophisticated, mysterious perfume and sold only in fine department stores. I can't find a good description of the original scent. Most antique perfume aficionados agree it used bergamot, ylang-ylang, orris, amber, vanilla in a base of patchouli, sandalwood, and musk. As mid-century approached, the ingredients became more expensive, tastes changed, and sales fell. The perfume went out of production and was sold with all of Coty's fragrances to pharmaceutical giant Pfizer in 1963.
Styx languished in Pfizer's formula vault until 1971. That year, the company reformulated Coty's catalog of fragrances, including Styx. Perfumes now manufactured from less expensive oils reduced costs; product sales moved from department stores to the more economical drugstores. Styx arose reborn, and this time the scent targeted the youth market. Capitalizing on the demand for trendy countercultural products, Styx now contained light notes of bergamot, ylang-ylang, iris, incense, violet, amber in a base of patchouli, sandalwood, musk, and oakmoss. Patchouli and sandalwood were the signature fragrances of the late 1960s, which appealed to the lingering hippy vibe of post-flower power 1971 hipster kids like me.
Some real-life Don Draper on Madison Avenue came up with a brilliant marketing campaign for the relaunched fragrance. It now targeted the 16 to 21 demographic, and the money burning a hole in our collective pockets. Noted for invoking an air of mystery, the new Styx added a trendy, mysterious, witchy edge. Repackaged as potions, amulets, and mini-cauldrons, the revived Styx line of products was fresh, new, and more mysterious than ever. The selling point gimmick was each item contained a special spell. Never mind an anonymous copywriter penned the incantations and not a mage. It was novel, full of mystery, strangeness, spookiness, and an idea spawned of pure brilliance!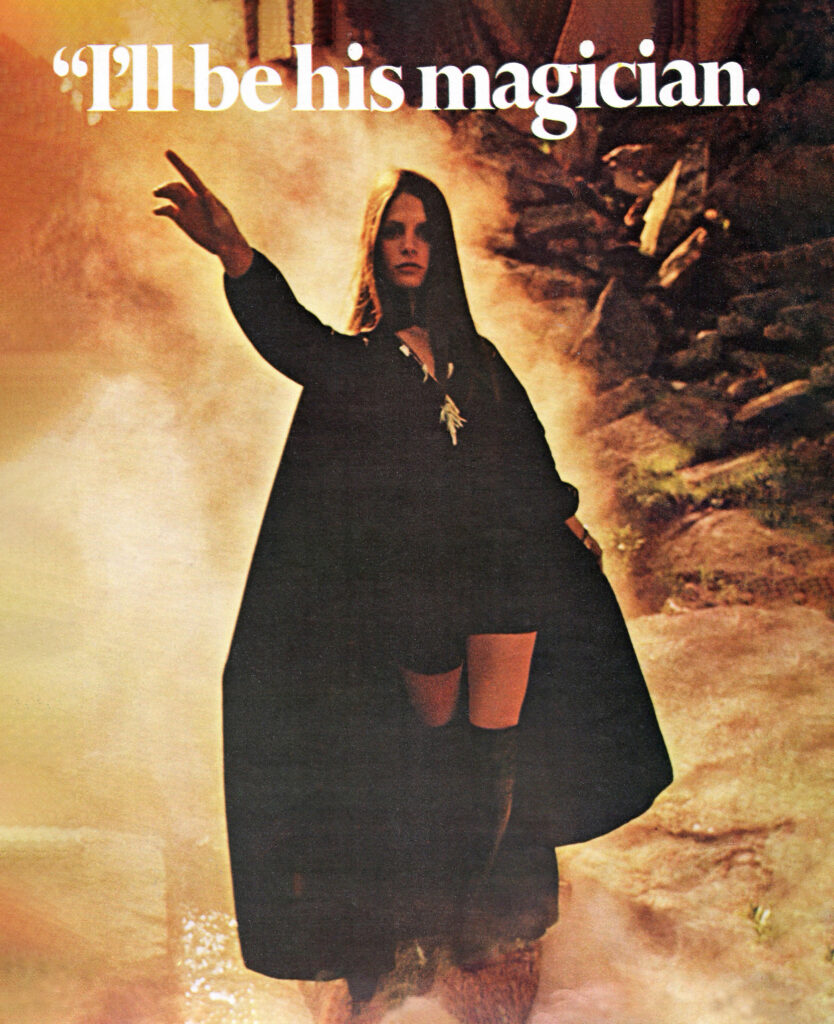 The Styx campaign debuted in the October 1971 issue of Seventeen Magazine. The two-page ad featured a commanding hippie chick witch who declared, "I'll be his magician. Let me touch him with my magical Styx." Now, that got everyone's attention, and it appealed greatly to me. One year after the demise of Dark Shadows, I was dying for some witchery. If my generation learned anything from the show, it was: "If first, you don't succeed, just cast a spell." Fantastic! I could just run to the drug store instead of wondering where I could find dusty tomes. There certainly weren't any in the county library.
Coty's promos ran in magazines for young women – Ingénue, Seventeen, and 'Teen. Even Scholastic's home economics magazine for students, Co-Ed, had the ads. By mid-1972, Styx collections were in stores everywhere and on our wish lists. Economically priced, the entire product line was within the limits of our saved allowances and babysitting money.
The products were darling. There was a whole line of toiletries, all with magical properties and enchantments for every occasion. What could be better? It was witchy and full of liberated woman power when liberated woman power was new and wasn't cool. These spells would give young women an advantage, we thought. Not only would Styx get us out of the house on Friday night, with maybe a Hardee burger & fries before curfew, but perhaps we could snag a date to the JV spring dance. And Styx was only $1.75. Smokeless, efficient, less expensive and less trouble than a padded bra. What could be better?
It took me a while to find any images of Styx on the internet and Google. I've tried to enhance the ads as much as possible. The Spell Spinning Mist was what I received that Christmas. Sadly, there are hardly any adverts in existence anymore. Thankfully, I found a scan of the two-page ad with the entire product line. Aren't these spells just the cutest thing?
Eau de Mischief: "Styx river, Styx water, mystery double, Turn him my way or give him trouble!"
Creme Fatale: "Blood run hot, heart beat fast, Warm his love and make it last."
Quicksilver Powder: "Lightshine, quickshine, blind his eyes to any other girl but me."
Triple-Ripple Bath Brew: "Stir his heart as I stir these waters. Disturb him with my image."
Spell-Spinning Spray: I summon the spirits, the powers that be, whisper my message, enchant him for me."
Destiny Drops: "Take his will away, I say, make (his name) the slave of my charms."
I have no idea who the copywriter was, but I hope whoever received an award for brilliance. Of course, we can't have such things today. With religious kooks burning Harry Potter books, teaching virginal daughters to spellbind beaux and fly up the chimney at midnight would really get their bowels in an uproar.
When I returned to school after the Christmas break, I arrived on a cloud of Styx. So did two-thirds of the females of my high school. In the early months of 1973, the hallways were reminiscent of Pier 1 Imports but without beaded curtains, blacklight posters, bean bag chairs, and bongs. I can't recall receiving more male attention than usual or any mystic powers from the spells. Of course, we never took that seriously. It was a novelty, but after the novelty wore off, we soon forgot the spells and the witchy ads. Dates eventually happened, as did dances. I do remember an ex-beau in late 1973. He had the misfortune of annoying me after the third date. Worse, he borrowed my Clairol Air Brush and broke the thing. Not only did he find himself unwelcome so fast his head spun, but I also sent him a bill for the missing blow-dryer and demanded a replacement. Young ladies did not do such things in 1973, so I gained a bit of notoriety due to the incident. When it was over, it was plain for all to see that I was a young woman not to be trifled with, particularly where property and hair care products were concerned. Instead of summoning a demon to do my bidding, I would summon a lawyer. Well, lawyers can be demonic. Perhaps that was my Styx powers. Who knows?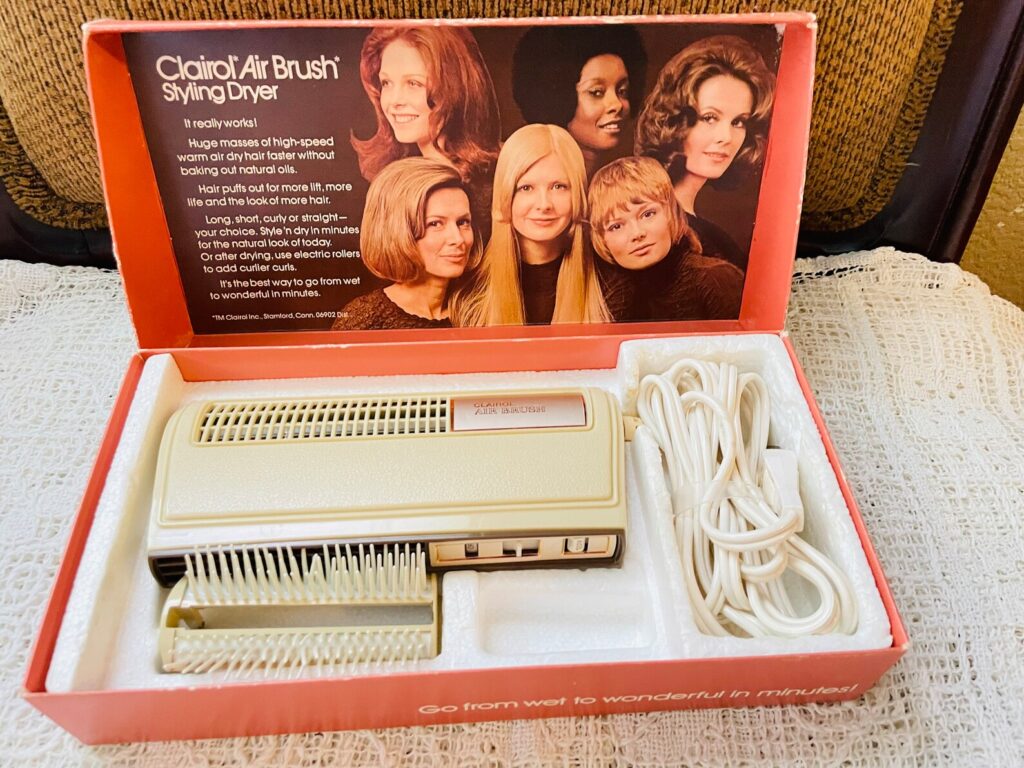 Doing a quick search of Etsy and eBay, I was stunned to find an old bottle of Styx, with only a few milliliters of perfume left, is now worth $500. That exceeds the value of the original 1911 version. The 1971 Styx remained on shelves until 1978 when it vanished forever. Even though mass-produced, like many things in the 1970s, Styx became faddish and disposable. Like my own remnants of Spell Spinning Spray, most unused products wound up in the trash, making way for the next big thing. Now, in the 21st Century, it's a rare, almost forgotten artifact of a bygone age.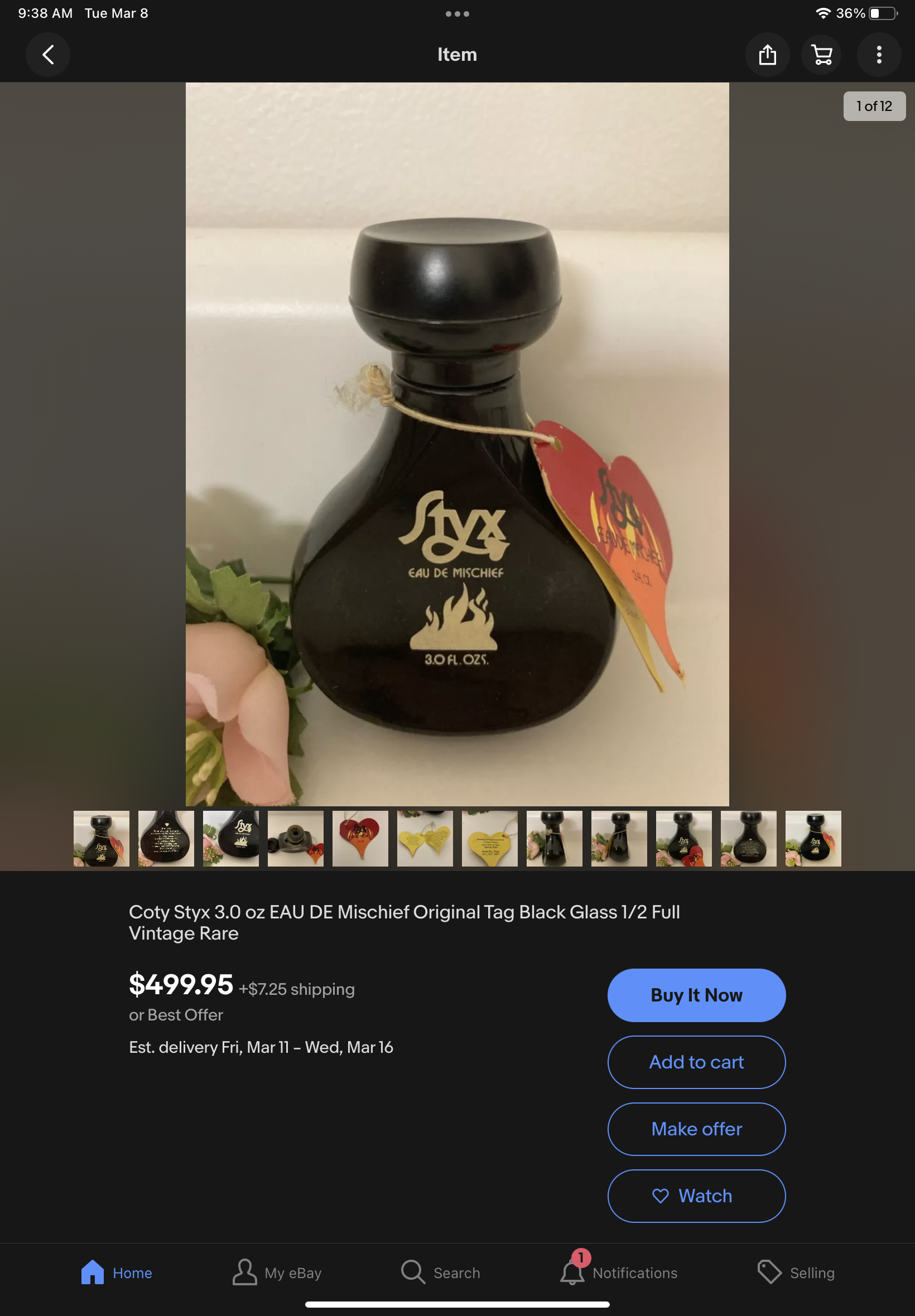 I did find Styx on an online vintage perfume shop called Surrender to Chance*. A unique business, they sell small decants from salvaged antique fragrances. Fortunately, they have a bottle of 1971 Styx Spell Spinning Spray. It may very well be the last bottle left in the world. I was able to purchase a 1 ml sample. It arrived today! After 51 years, here it is.
It smells a little different than what I remember. After a half-century, it seems to have lost some of the lighter floral notes. The sandalwood, patchouli, musk, and moss seem a bit more prominent. In some ways, it reminded me more of Dana's Tabu and seemed less playful than I remember. I guess it was to be expected, as age changes things. Fifty years on, I'm less playful, too. Still, it transported me back to that time of learners permits, home economics class, and Tomb of Dracula comics. As the cost was less than $10, it was worth it. Why not give it a try? Travel back to those wonder years of early 1973 when You're So Vain and I Am Woman boomed out of Top Ten radio stations. And remember, be sure to say the spell!
* I highly recommend Surrender to Chance. The ladies are extraordinary!