Review: Jadoo! by John Keel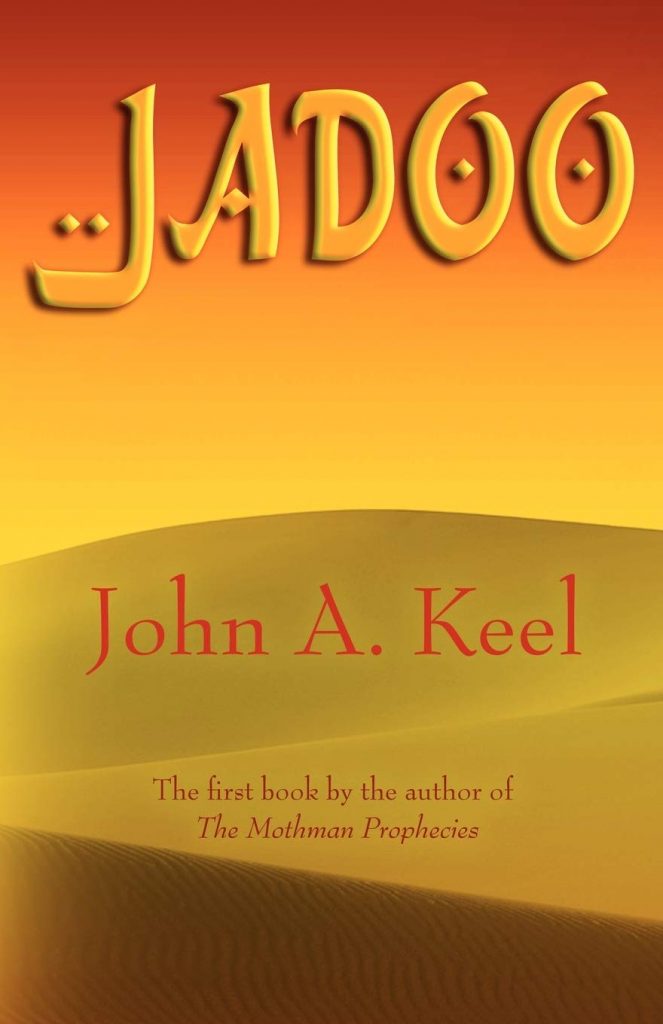 I make no apologies for liking the works of writer John Keel. A prolific adventure storyteller, Keel was wildly published in magazines by the late 1960s. By that time, most articles revolved around the strange world of UFOs, mysterious events, and the general unexplained lumped under the heading of Fortean Phenomena.

Just reading his stories at that time was an adventure for me, though.  For one, Keel's works were in "men's" magazines.  Not only were those not allowed in our household, but they were forbidden to children in general and certainly not sold to little girls of nine.  I think the raciest thing I read in those preteen years was my mom's Photoplay, and even that vanished on occasion when it sported a particularly gossipy cover.  Finding SAGA or True on the coffee table was unthinkable.

Thankfully, a few kids would find their big brother's copy of Argosy or Esquire, rip the story out and pass it around at school. In strictest secrecy, we got our fix of strangeness as told by the inimitable JAK.  By 1967, dedicated UFO magazines hit the newsstands, reprinting many of Keel's articles. We didn't have to work so hard to read the latest on the strange world of flying saucer sightings, UFO landings, strange beings, and the mysterious Men in Black who trolled the back roads telling witnesses to shut up or else.  His stories were riveting and full of action.  Through his stories, I could see myself out watching for mysterious lights in the sky, battling menacing black Cadillacs, answering mysterious phone calls in the night from beings sounding like androids and other exciting, if far-out, things out of a UFO/Spy yarn.
As I usually do when the summer heat becomes too unbearable to anything useful at all, I revisit some of his works to relive those thrilling days when I was nine and believed everything I read.  This summer, I was pleased to find the one book I've not read – Jadoo!, Keel's first book, long out of print, and now in Kindle format.  No UFOs or MIBs here.  This book is early Keel searching for adventure and breaking into the competitive world of pulp magazines with action-packed stories.
First published in 1957, Jadoo! is a semi-autobiographical novel of Keel's early years traveling the world and becoming an adventure writer.  In the year 1954, after a stint in the US Army and working as a foreign correspondent in West Germany, John Alva Keel chucked his day job, packed up his typewriter and knapsack, and set off to see the world.  He was in search of "Jadoo," the Hindustani word for real magic.  Following the siren song of Jadoo, he set sail for ancient ports of call in a world about to pass away.  Mid-century was a time when the mysterious near and far east awaited any young American man with a few bucks, a passport, and a sense of adventure.  It was a magical time. The ancient world was making one last stand before encroaching modernization, the end of colonialism, and the establishment of dictatorships.  The mysterious Orient was a globetrotting young man's oyster, and Americans hadn't yet worn out their welcome everywhere.
"I am a professional cliff-hanger."
With that declaration, we're off on a 16-chapter, action-packed book of two-fisted tales.  After a bit of backstory, JAK disembarks in Cairo and plunges into the strange world of wizards and magicians.  Known as the "eccentric American writer looking for bizarre people," he soon finds himself surrounded by a plethora of crazy characters – bandits, Sheikhs, fakes, conjurers, snake charmers, snake eaters, mummy sellers, hashish smokers – all in a real-life cloak and dagger foreign city. After a romantic interlude with the German girl he left behind, John sails to Beirut, then hitches an automobile ride across the desert to Baghdad. Arriving flat busted, he awaits rescue by his publishing agent, hoping for cabled money to arrive at the local American Express office. While idling away a few weeks, he meets a Shaikh, spends two weeks with Devil Worshipers called the Yezidis, and plays Russian Roulette with an Iraqi desert bandit.
If that's not enough adventure for you, the last half of the book offers even more incredible thrills. Leaving the middle east, Keel treks on to India.  Arriving in Bombay, he immediately immerses himself in snake charming (he has a thing for cobras).  Then, he learns the tricks of the trade of the legendary fakirs, finds the secret of the Indian rope trick, and performs it with comical results.  From there, he's off to Calcutta.  JAK travels tantalizingly close to the Himalayas. Landing in Sikkim, he seeks out the secrets of the lamas, literally does hang off a cliff in one incident, and catches a glimpse of the fabled Yeti.
All good things come to an end, including Keel's search for Jadoo.  Sailing into Singapore, John finds himself at the entry to the ultimate destination – The Far East, the Mysterious Orient. Sadly, he also arrived with no money waiting for him at the American Express office. Singapore was in turmoil, in the waning days under British rule. The British Colonial government had no time for young adventurers without any financial means of support.  Though Keel was able to see a few strange sights during his stay in this jewel of Southeast Asia, his time was abruptly cut short. Given the heave-ho by the authorities, he was expelled, placed on a Danish steamer, pointed in the direction of Boy's Town, and deported.

I must say Jadoo! was a wonderful summer read, even in the crazy world of the 21st Century. Keel's writing style is vivid, action packed first-person account of his adventures.  Fast-paced and descriptive, a reader can almost relive his experiences through his prose. Intelligent and engaging, he is simply an excellent storyteller.  Reading a JAK book is like listening to an old friend you've not seen in years. He fills an afternoon with mesmerizing tales of faraway places, even if you don't quite believe everything he's said.  
And with that, I must add a cravat: not everything in Jadoo! is true.  Yes, Keel spent a year or so wandering.  As he traveled, he also wrote about his experiences, developing his style and formula for successful articles for men's adventure magazines. Most of the chapters were stories submitted to his agent while on the road and printed in Argosy and True. Enough manuscripts were published during travels to give John Keel his big break as an adventure writer and finance the rest of his excursion through the Mid and the Far East. These stories were later revised and reworked into Jadoo! as an adventure Novel.
By John's admission, Jadoo! is about 60% factual.  According to correspondence between Keel and his agent, the truthfulness of the stories was discussed.  Though Keel writes all stories as first-person experiences, many adventures started as secondhand tales retold.  Others are Keel's own experiences with lots of novelistic embellishment.  Years later, he would pen an article for Writer's Digest on how he wrote adventure stories and shared the formula used in Jadoo!
Whether true or not, I still give this reprint four and a half stars.  Keel's writing style is still excellent 60 years on. The adventure still alluring.  Too, this is his ode to the ancient cultures of the Middle East that vanished in the few short years of his travels. I took away one half star due to the "German girlfriend" addition in the reprint.  Though a bit interesting, it doesn't really fit such a rip-roaring adventure and comes off a tad sappy.  As it bogged down the action, I found myself skimming over it.  As for the rest, the book is simply a page-turner of pure adventure and a joy to read.  Available in paperback and Kindle, grab a copy for an afternoon of pure escapism and adventure.