Another bit of sad news.  Author Anne Rice has passed away at age 80.  A prolific writer, she produced over 30 books from 1976 to 2018.  Her son, Christopher, announced her death on social media this morning. She died from complications of a stroke. 
Of course, her body of work left behind needs no introduction. Writing everything from romance, to erotica, to gothic, she burst upon the scene in 1976 with her genre-changing Interview with the Vampire.

That was Ms. Rice's crowning achievement.  She single-handedly revived the vampire archetype.  Far removed from the demonic Dracula embodied by Bela Lugosi, her vampires were beautiful, alluring, and sometimes full of remorse. She was the first writer to introduce a hierarchy and social structure among her undead characters. 
I thoroughly enjoyed Interview.  In those Dark Shadows-less years of the 70s, it was a breath of fresh air. My friends hated the book, claiming she destroyed the classic vampire. I'm glad she did, as it needed an update. And the update flourished.  With the sequel's publication in the mid-1980s, The Vampire Lestat produced the template of the emerging Gothic subculture, which is still active 30+ years later.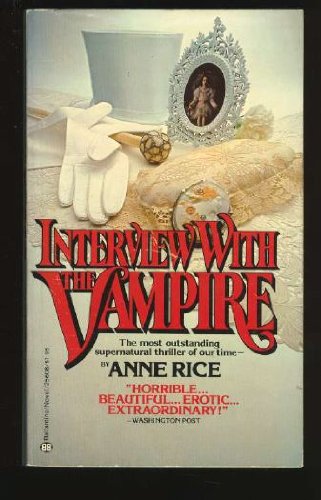 I still have the first edition paperback of Interview With the Vampire.  I loved the cover and adored the prose.  I recall in some long-forgotten magazine interview, Rice confessed she watched Dark Shadows in the late 1960s. Of course she did.  Louis de Pointe du Lac, the forever mopey and heartbroken vampire, would yield small glimpses of Barnabas Collins every now and then. Her Vampire Chronicles would span 15 books. Thank you, Anne Rice, for sharing your extraordinary vision with us.