I had planned a whole bunch of cheerful mid-century themed posts for this Christmas season. But, on the day after Thanksgiving, Omicron decided it was a great time to burn what's left of the world, and that kind of put a damper on things. So did supply chain issues, delayed packages, and the holiday generally going tits up at the last minute. Taking comfort in the small things, like hot chocolate weather, Climate Change kicked in and made December abnormally warm. As a final spit in the eye of the season, Christmas has now decided to be warm all through the mid-Atlantic states, so no matter where I roam, I can forget chestnuts roasting on an open fire. Hopefully, the food and pastries will not go over by the time I get them to their respective destinations on Christmas Eve. Time to piss on the fire, call the dogs and go home.
In a final gasp to rescue anything good about the festivities of 2021, I will share my favorite Christmas story. It's about the only normal thing I can indulge in this year without the ceiling falling in. Anyone who knows me acknowledges my favorite Christmas tale is A Christmas Carol by Charles Dickens. I've always found it inspiring. We know the plot by heart. Prototype Conservative, the money-grubbing miserly Scrooge, hates everyone, cares for nothing except profit, and to Hell with everyone else. (He's the spirit animal of Mitch McConnell, Joe Manchin, and the entire Republican Party.) Enter some supernatural intervention in the form of four ghosts, one of whom was his business partner in life, now suffering the torments of the afterlife for being a greedy skinflint. Together the quartet scares the holy Hell out of the old man in a wild night of haunting. Scrooge awakens on Christmas day chastened. Realizing he's wasted the bulk of his life as an utter selfish prick, he has a change of heart. Redeemed, he becomes an actual caring human being, is reminded other people exist, and money means nothing after death.
One Christmas, I embarked on watching every adaptation of the story ever made. By the time I reached the 6th hour, a family member cried "Uncle!", accused me of torturing everyone, and fled the house. To avoid a repeat faux pas on my blog, I'll highlight my top picks of A Christmas Carol.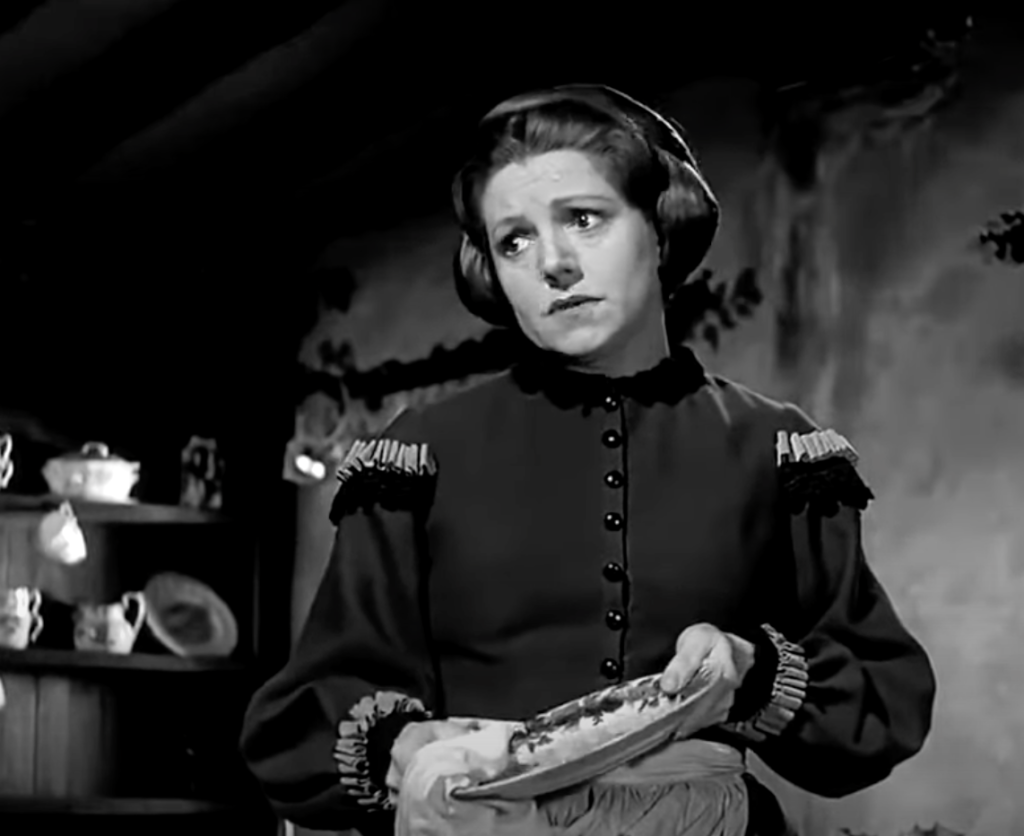 1. A Christmas Carol ( aka Scrooge UK release, 1951)

This film is the gold standard for all productions of the story. Gloomy, bleak, and shot in glorious black and white, it captures the mood of Dickens' tale completely. Alister Sim gives a marvelous performance in a wonderfully cast movie. Sim's Scrooge is not only believable as the awful miser, but his redemption is genuine and without the half-mad histrionics. Good acting throughout, this is how it's done. As a bonus, Hermione Baddeley (Mrs. Naugatuck on Maude) is cast as Mrs. Cratchit. Also, look for a young Patrick Macnee (John Steed on The Avengers) as young Marley.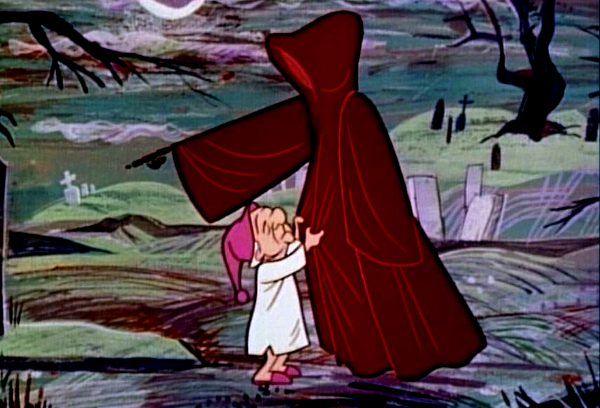 2. Mr. Magoo's Christmas Carol (1962)

Special to me because this was my first remembered introduction to the story as a child. This animated version was an hour-long cartoon broadcast on prime-time television in 1962. Presented as a Broadway musical with bumbling Mr. Magoo in the lead, it's thoroughly entertaining. It's also the first musical version of the story. The characters are voiced by veterans Jim Backus, Morey Amsterdam, Paul Frees, and Les Tremayne. The real star in this production is Jack Cassidy, who voices Bob Cratchit. Cassidy, the father of David, was a hot property on Broadway at the time and absolutely shines in main number The Lord's Bright Blessing and the duet with Backus, Ringle, Ringle/It's Frightfully Cold. Another favorite is The Plunderers March/We're Despicable, and the cartoon introduces us to perhaps the saddest song ever made for a holiday special. All Alone in World made me cry at age four and still makes me sad. Though Mr. Magoo is a somewhat forgotten cartoon character, this animation holds up amazingly well 60 years later.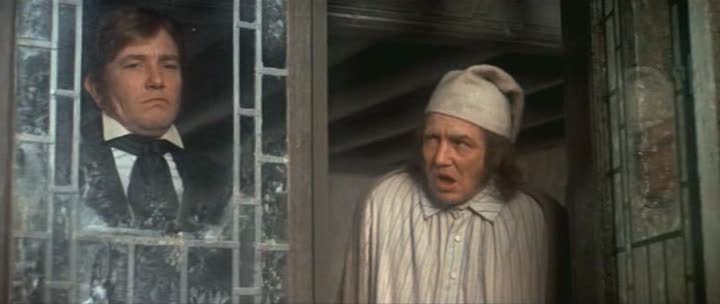 3. Scrooge (Musical 1970)
Songs! Dance! Albert Finney! Scrooge is the first musical version done for the big screen. Yes, this musical was simply an attempt to cash in on the award sweeping Oliver! Yes, Albert Finney wasn't a song and dance man. Still, it works and makes me happy. Albert Finney was an outstanding actor and is genuinely believable in the title role. The score, written by Leslie Bricusse and arranged and conducted by Ian Fraser, it's full of entertaining, catchy tunes. Notable supporting cast members are Dame Edith Evans as Christmas Past and Sir Alec Guinness as Marley. Clocking in at 113 minutes, it's the longest adaptation on film. Mostly following the original canon, it is fast-paced, and the songs are lovely. The score gives us I Hate People, Father Christmas, and the toe-tapping, Thank You Very Much! The choreography is fantastic. The show-stopping finale is so energetic it's hard to sit still through the number, no matter how exhausted I am from the Christmas season.
4. A Christmas Carol (1971)
Another prime-time animation, this gem by producer Chuck Jones won an Academy Award for Best Short Subject in the following year. True to the original story, this rendition is bleak, cold, and at times, frightening. Master animator Ken Harris, taking inspiration for the original engravings of John Leech, delivered a shadowy tale not intended for children. His truly horrific visuals of mankind's demon children Ignorance and Want are what Dickens intended and have never been matched in any production. Alistair Sim reprises his role as the voice of Scrooge, with Michael Redgrave narrating. Sadly, this buried treasure is out of print, and that's almost criminal. A few lucky folks in possession of a VHS copy have shared it on YouTube for posterity, at least until some corporate entity takes it down.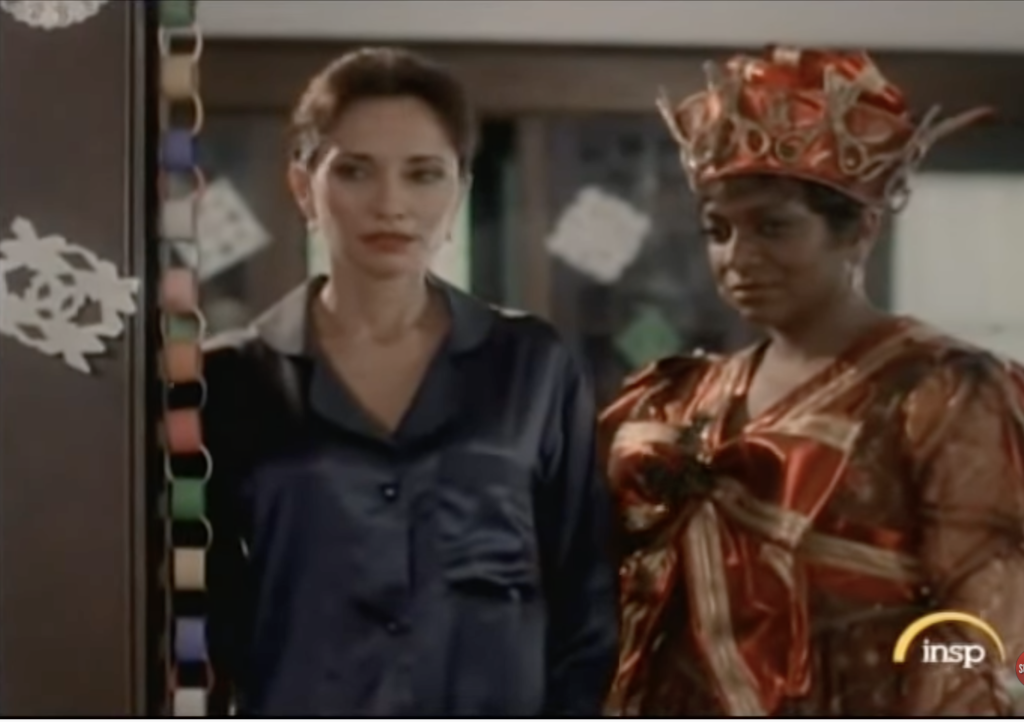 5. Ebbie (1995)
A direct to cable TV movie for the Lifetime Channel, this version is my guilty pleasure. Updated and moved to North America, and the main characters recast with women. Our villain is now a corporate retail barracuda named Elizabeth "Ebbie" Scrooge, who browbeats her employees gleefully. Her beleaguered assistant, now recast as Roberta Cratchit, is a cheerful, if exhausted, single mother. As the CEO of Dobson's Department Store, Ebbie Scrooge clicks her way through the store like an ice cube in high heels, firing people at will on Christmas Eve. Ebbie is played by none other than All My Children's Susan Lucci, so it's like watching Erica Kane play Scrooge in Pine Valley. Though the Tiny Tim trope really doesn't work, it's worth watching Lucci be a royal bitch for 90 minutes. Her perfect foil is the divine Canadian actress/singer Lorena Gale, who plays Rita/ Ghost of Christmas present. Bitchiness, barbs, and one-liners fly, and that's just fine!
6. A Christmas Carol (1984)
Not my favorite adaptation, but still watchable. I'm not a big fan of George C. Scott, and he didn't move me as Scrooge. I half expected to see General Patton materialize and slap Tiny Tim for being a slacker. The supporting cast is excellent, though. Angela Pleasence as Christmas Past is fantastic if a bit jarring at times. The elegant Edward Woodward of "The Equalizer" fame does well as the jovial and berating Christmas Present. The unsinkable British actress Liz Smith makes an appearance as Mrs. Dilber, rounding out an excellent supporting cast.

7. A Christmas Carol (1999)
The nineties belonged to Patrick Stewart. When not on the bridge of a future version of the Starship Enterprise, he was on stage with his one-man show. Of course, his one-man show was a reading of A Christmas Carol, so that's why he's here. Though his stage play was excellent, Stewart as Scrooge didn't quite translate as well in this made for cable movie. Though Stewart is a fine actor, his Scrooge was a little too young, hale, and hearty to be believable. Making up for this speed bump, Stewart's delivery is spot on, and this production is the truest to the Dickens story of any movie other than the Chuck Jones version. Not only does Scrooge see Christmas in the coal mines and lonely far-flung poor places, but Christmas Present also delivers in full Dickens' most powerful, blistering prose:
"But so what if he dies? If he's going to do it, he'd better do it quick and decrease the surplus population. If you be a man in your heart, forbear that wicked cant until you've discovered what the surplus really is and where it is. Will you decide what men shall live, what men shall die? It may be that in the sight of Heaven, you are more worthless and less fit to live than millions like this poor man's child. Oh God, to hear the insect on the leaf pronouncing there is too much life among his hungry brothers in the dust!"
Again, we have a great supporting cast. Joel Grey is Christmas Past, Richard E. Grant as Bob Cratchit, and Liz Smith reprises her role as Mrs. Dilber. I'm always happy to see Liz Smith, so this bit of casting was just icing on the cake for me.
Now, that wasn't torturous, was it?  Try to have a great Holiday. Turn the A/C to 32 and use the fireplace.  Fix up some eggnog with bourbon or Everclear. Or both.  Have a few belts and relax. Be nice to others. Be thankful for what you have and that you are alive.  Don't be greedy.  Have a Happy Christmas, stock up on masks, and prepare for whatever damnation 2022 hurls our way!